STEP INSIDE HISTORY'S MOST DARING CONSPIRACY
Journey back in time and experience London as it was in 1605. You're not just witnessing history, you are living it.

Using a combination of live theatre and the latest digital technology you are transported into the heart of a story in which you are the protagonist. You're thrown into the world the plotters inhabited, immersed in an unforgettable, fully 360 environment. You will experience the deception first hand but when you are surrounded by 'traitors', who will you trust?

Featuring Tom Felton as Guy Fawkes in our digital cast.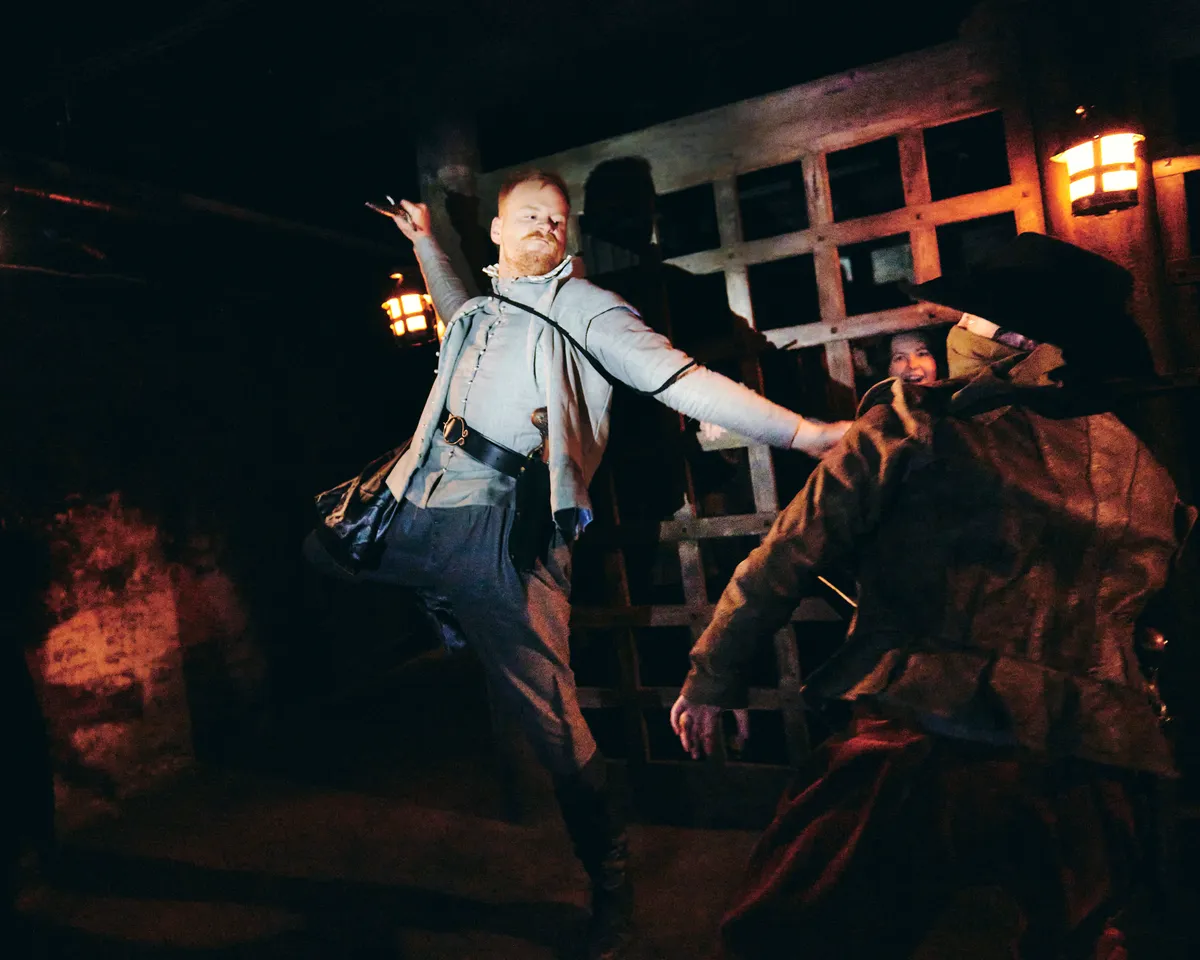 As a co-conspirator you will:

Meet the mysterious figures behind the plot

Take on an undercover mission to infiltrate their inner circle

Make a dangerous attempt to escape the Tower

Uncover a secret safehouse

Enjoy refreshments in the infamous 'Duck and Drake' as you hatch your plan

Make a daring journey along the Thames towards the Houses of Parliament

Will you stop the plot?
IMMERSE YOURSELF
Your five senses will ignite as the latest digital technology is paired with live, immersive theatre and real, physical sensations. As you step back into 1605, this multilayered experience will make you feel like you are there. History is happening around you, and you are part of it.
YOUR JOURNEY TO 1605
The Gunpowder Plot is an explosive immersive experience with surprises around every turn. Your feature length adventure lasts around 1hour 40mins, including a 20 minute interval where you will be able to enjoy refreshments in the specially recreated Duck and Drake, accessible only to plotters. As you descend into the vaults, you will experience a groundbreaking combination of live action, virtual reality, and cutting edge technology including motion simulators, physical sensations and stunning special effects.
Your Layered Reality experience:

Enjoy a day out with friends and family as you embark on a thrilling new immersive experience unlike anything you have experienced before

Make the most of The Gunpowder Plot experience and enjoy food, drink and cocktails in our themed bars

An experience the whole family can enjoy however, due to the story content and technology, our age recommendation is 12+
Each performance is limited to a maximum of 16 people to allow you to come face to face with history

Be prepared to be part of the story. There are opportunities for you to interact with the actors, but you don't have to. It's entirely up to you how much you get involved