Corporate groups say they have the most fun at Layered Reality experiences
Why not gather your favourite co-workers together to indulge in delicious food, a fantastic selection of drinks, and try a unique experience that will be the talking point amongst you all for weeks and months after.

Packages for groups of 16+ people
Our Corporate Group Packages have been designed for groups of 16+ people.
See below to decide which package would be the best option for your team.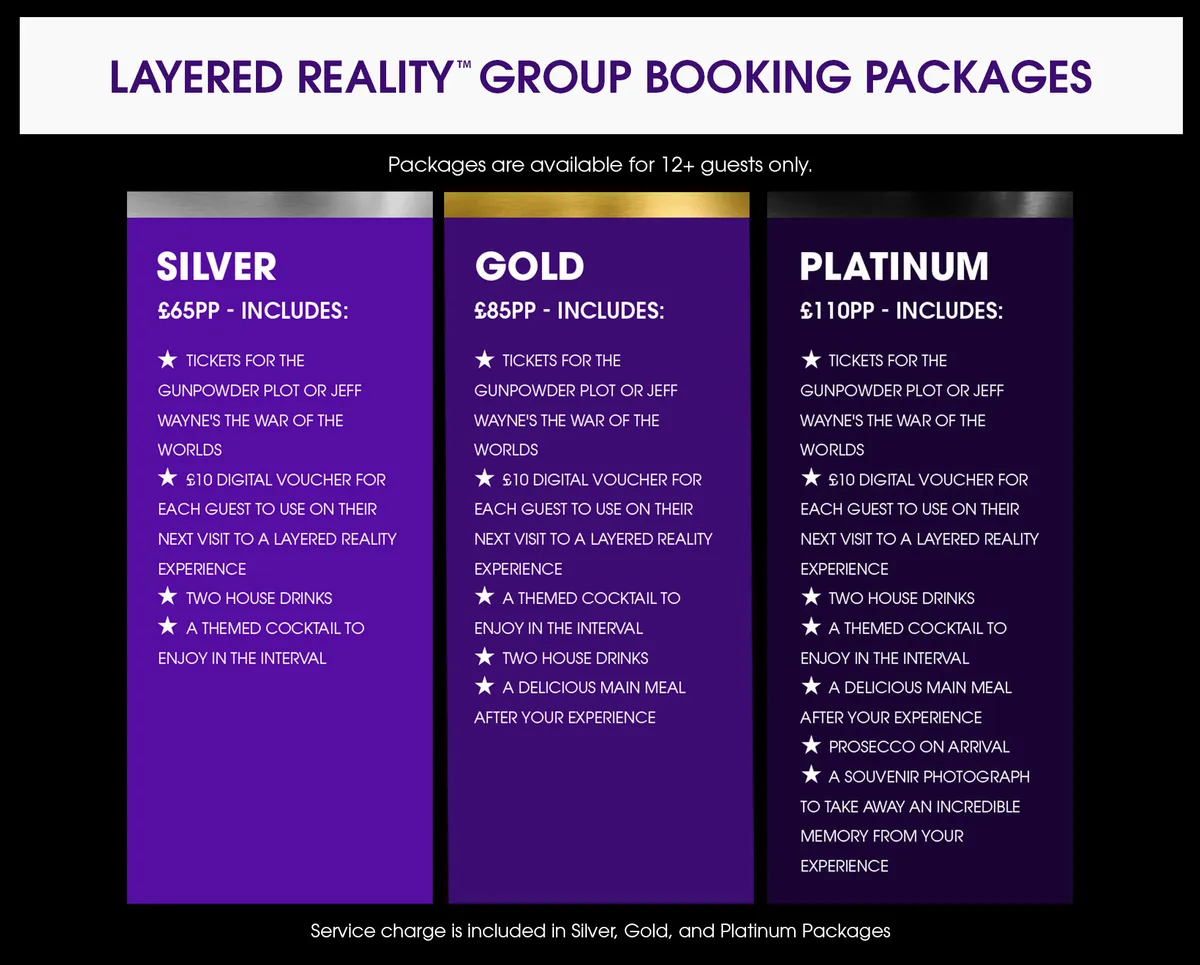 FAQs
Can group bookings have exclusive timeslots?

Yes we can offer exclusive timeslots. Depending on the size of the group there may be an additional charge.
How long should I plan for my whole package experience?

Between 30 minutes to 1 hour for arrival/check-in/pre experience drinks.
1 hour 40 minutes for The Gunpowder Plot: The Immersive Experience. Add on an additional 10 minutes for each timeslot you have booked.
Between 1 hour 30 mins to 2 hours for dinner and drinks afterwards.
What is the minimum number of guests required to book a Corporate Group Package?

Corporate Group Packages are available for groups of 16+
When are groups packages available?

Packages are available Weds-Sundays and a Premium is charged for Saturday bookings.

The venue is closed on Mondays and Tuesdays.
What is your cancellation/exchange policy for Group Bookings?

In the event a group wishes to cancel their booking our refund policy is as follows:


Cancellations of 14 days or less prior to the event – 100% of full booking value is required as payment
Cancellations of 30 days or less prior to the event – 50% of the booking value is payable on cancellation
Cancellations 31 days or more prior to the event – we can move the booking to a new date within 6 months from the initial date however you will incur a 10% administration charge which will be added to your revised order quotation.
Interested in making a group booking at The Gunpowder Plot? Enquire now for availability
What if I only want tickets and not a package?
Groups of 10+ people can book tickets only online To save £5 per ticket - use discount code GROUPS85W at checkout. Click to Book now.
If you require more than 16 tickets please complete the online enquiry form.

Still wondering what to expect from The Gunpowder Plot? Take a look at our trailer below: