BLUE ORCHID REWARDS
BOOK NOW SAVE £10
Simply click the button below to automatically apply your discount code and save £10 off your tickets, or enter code BLUEORCHID before you checkout.
Step inside history's most daring conspiracy.
London, 1605. A city divided. The fuse of rebellion is lit. The peace of the nation balances on a knife edge...
Step into a world where spies and informants hide in every shadow.
Your mission is to go undercover and unmask the mysterious figures behind history's most infamous plot. But when you're surrounded by 'traitors' who can you trust?
Experience history like never before
Your five senses will ignite as you make a dangerous attempt to escape the Tower, uncover a secret safehouse, and make the daring journey along the Thames towards the Houses of Parliament. You're not just witnessing history, you are part of it.
Creative Director Hannah Price says, "Everything we are working on is to make this dark and superbly rich world come to life, and this experience utterly unforgettable."
You're thrown into the world the plotters inhabited, immersed in an unforgettable, fully 360 environment. Using a combination of live theatre and the latest digital technology you will journey back in time and experience the deception first hand, but will you stop the plot?
The Gunpowder Plot writer Danny Robins says, "It's like somebody made a brilliant movie version of The Gunpowder Plot and it came to life around you and exploded in your face with bits of Jacobean London flying at you."

Cast Announcement - Tom Felton to play Guy Fawkes
The star leads a large digital cast including Gary Beadle, Michelle Asante, and Kiruna Stamell.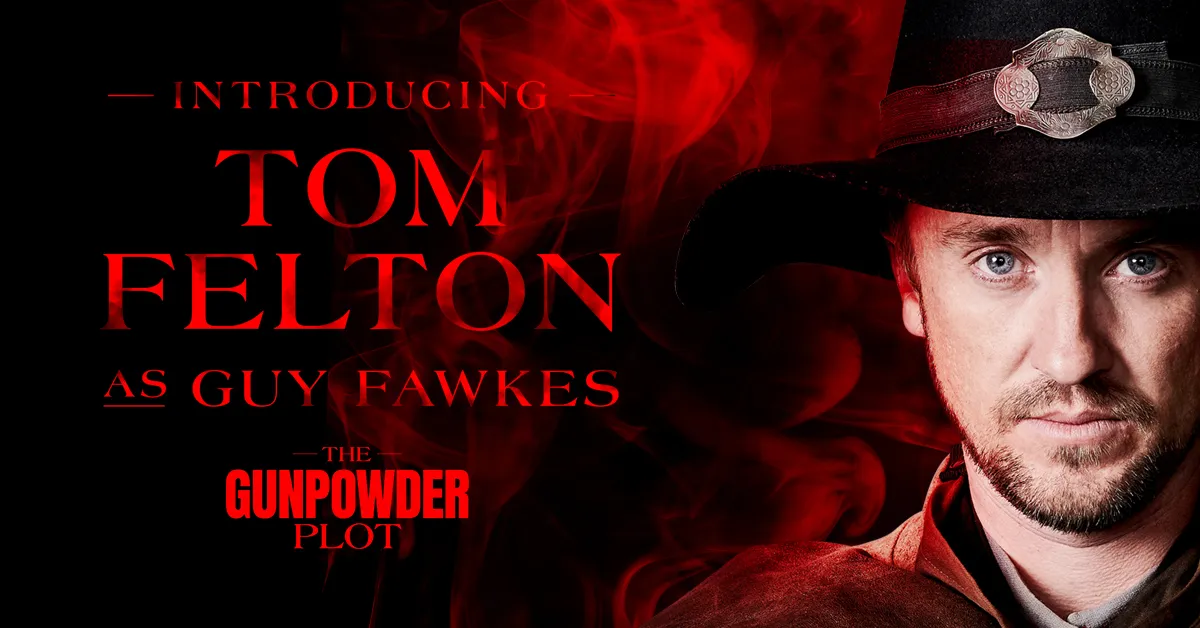 Layered Reality™ are delighted to announce that Tom Felton will play the starring role of Guy Fawkes in The Gunpowder Plot. Tom will work with leading Virtual Reality experts Figment Productions, whose magic will allow Tom's image and movements to be motion captured and rendered "live" in the virtual world. Here audiences will interact with Guy Fawkes inside Virtual Reality, as they infiltrate the plotter's company and learn of the conspiracy against the Houses of Parliament.
Speaking about the role, Tom said "I'm very excited to be playing a character so famous (and infamous!) for being at the centre of the most famous conspiracy plot in UK History. Guy Fawkes is a fascinating character with a complex history and with passionate advocates and detractors then and now. To be able to bring the character to life through Virtual Reality, and to allow him to interact with audiences in a way that has never been done before, is thrilling."
Felton first found fame playing Draco Malfoy in the Harry Potter film series. Since then, Tom has starred in numerous film and TV productions including 'Rise of the Planet of the Apes', Neil LaBute mini-series 'Full Circle', and Ridley Scott's 'Labyrinth'. Tom can most recently be seen starring in Netflix's war epic 'The Forgotten Battle' and in the Sky Original film 'Save the Cinema'. Tom will next be seen on screen in the upcoming thriller 'BURIAL' and he makes his West End debut in '2:22: A Ghost Story' this Spring.